This shop has been compensated by Collective Bias, Inc. and its advertiser. All opinions are mine alone. #ThinkOutsideTheWipe #CollectiveBias
Today we wanted to share 10 Easy Toddler Activities for your 18 month old. Is there anything cuter or busier than an 18 month old? I love, love this age but at the same time they keep you going nonstop. They are into everything and need to be constantly doing something. I have come up with 10 messy and non-messy activities that will keep your little angel entertained for, at least a little while.
I know we are all busy mommas so Huggies® Natural Care® Wipes will help with the clean up. Most of these easy toddler activities will not take you more than 3-5 minutes to clean up. That might seem like a lot but they will keep your child entertained for quite some time. PLUS, if you haven't checked out Sam's Clubs new pick-up service go HERE, it will save you gobs of time on your grocery shopping. Right now they are giving free shipping on your wipes and more.
Interested in using Huggies Natural Care Wipes in your next creative adventure? Hover over the photo to click through to Samsclub.com and buy them!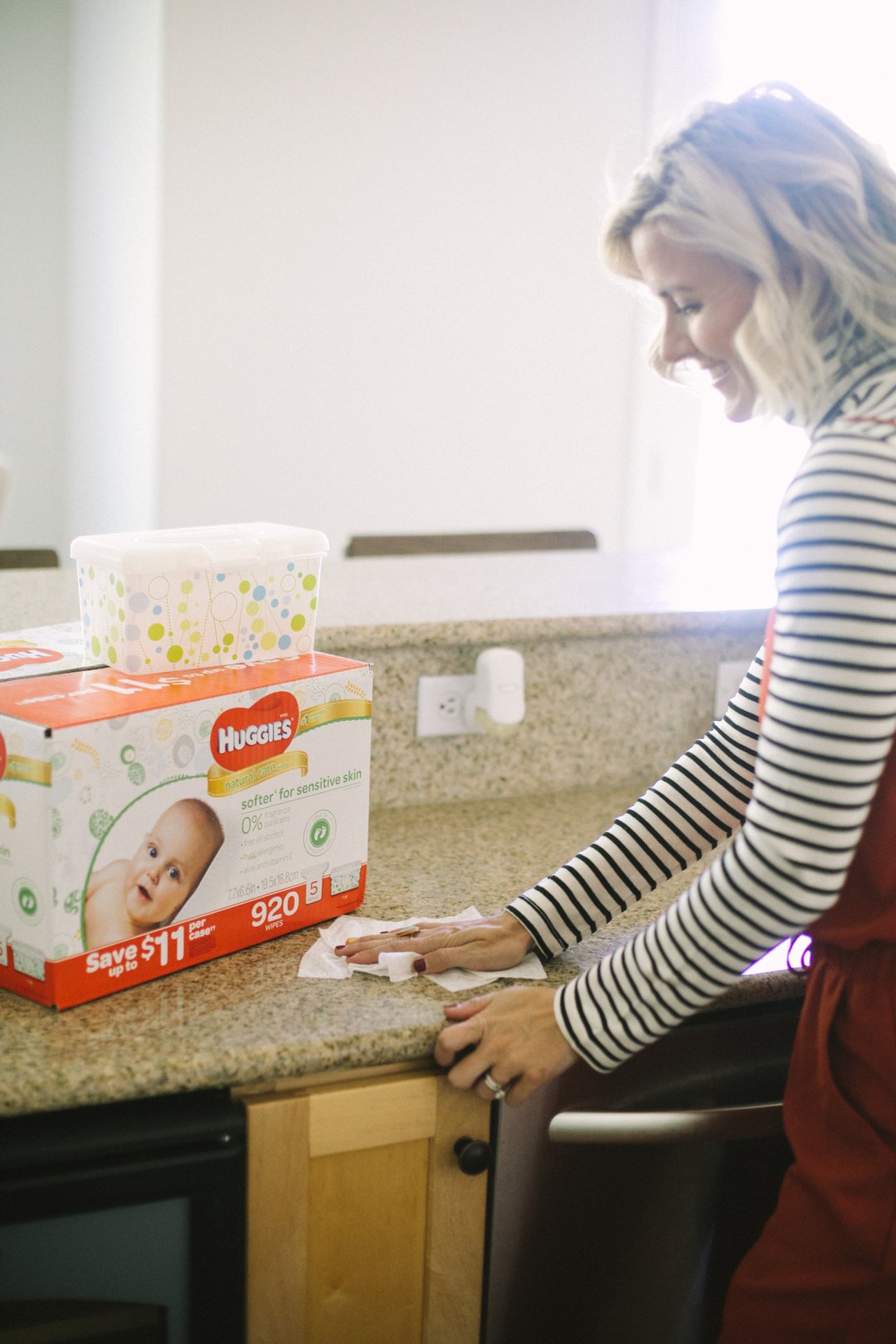 Easy Toddler Activities
Home made play dough
I have found anything they can do where I can strap my 18 month old into his/her high chair contains the mess the best. Edible play dough is perfect for this age. 18 month olds still love to taste everything so making sure it won't harm them is a must.
Recipe
2 cups plain flour
1/2 cup salt
2 T of cream of tartar
2 T of vegetable oil
1 1/2 cups of boiling water
food coloring
Steps to Make it:
 Combine flour, salt, cream of tartar, and vegetable oil in a bowl and mix.
In another bowl mix together water and choice of food coloring.
Add both mixtures together and continue stirring.
Leave it be for a little while.
Remove from bowl and knead until the stickiness is gone.
If you have kneaded and it is still sticky add small amounts of flour until the consistenvy is what you want.
Use Huggies Natural Care wipes to wipe off all counters.
Bathtub Foam Fun
When you can keep the mess contained AND they are having a blast you have made it in life. Go HERE for an easy peasy recipe.
Edible Finger Paint
Again another fabulous, messy activity! I would for sure put your child in his/her highchair to contain the mess and let them go finger paint crazy!
Recipe
1/2 cup of cornstarch OR 1 cup of Flour
4 T of sugar
2 cups of cold water
Food coloring
Pinch of Salt
Steps
Mix all of the ingredients together in a medium pan. Cook over a low heat for about 10 minutes. Keep stirring the mixture until it is smooth and thick. Once it has thickened turn the burner off and let it cool. After cooling divide the finger paint into separate storage containers and add food coloring. Make sure the lids are on tight while storing so it doesn't dry out.
Finger Paint in a Baggie
If you like the idea of finger paint but do not have time for the mess, here is another alternative. Put colored paint in a ziploc baggie and tape it to their high chair. Let them finger paint their little hearts out.
Colored Spaghetti Noodles
Is there anything more bizarre feeling then a bowl of spaghetti noodles. So of course why would we not make some with some fun colors and let our babies go "noodles"???!! They are edible as well as fun to put on their heads and let squirm through their fingers.
Glow Sticks in the Bath
Put your child in the bath with some water, glow sticks HERE and the lights off! They will love all the fun colors and bath time will be a check mark.
Jello Pool Party
Busy Toddler definitely has a phenomenal idea here. You wouldn't need to worry about anything harmful and the fun would be endless.
Flour Fun
My kids love to help me cook. Especially when I pull out the flour. After many times of them loving the mess I decided to just make this an activity. This is as easy as 1,2,3. Grab your bucket of flour, some bowls and cooking utensils, and some Huggies Natural Care wipes for clean up. Your kids will be in heaven and you will be able to get a couple of things accomplished.
Toy Washing
Kill two birds with one stone. Grab a bucket or a water table. Add a little baby soap (tear free), throw in some toys and while they are playing with the watered toys they toys are being cleaned.
Dirt
In my backyard I had an empty pot holder. I decided since my babies loved the dirt I would add some soil and let them go crazy. It sort of contains the dirt but allows them to feel free and play as though they didn't have a care in the world.
Messes happen. Big ones. Small ones. And all the sizes in between. But sooner or later, you have to look at that mess and smile. So let's inspire moms everywhere to embrace the mess and approach clean up with confidence with the help of Huggies Wipes. I love that they are clinically proven to wipe away 99% of germs and infused with aloe so gentle enough to wipe off little hands and faces. Go head to Sam's Club to grab your Huggies wipes and make some messes with your little angels!
You May Also Be Interested in: